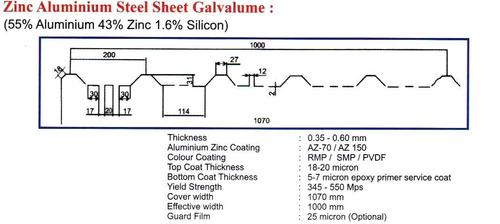 PPGL Roofing Sheets
Product Code : 24
Product Description
PPGL Roofing Sheets have wide uses in building construction. They meet a number of conventional and commercial applications. They are used for garages, car parking sheds, go-downs and warehouses etc. These sheets have high resistivity in all weather conditions. PPGL sheets offer many benefits in various roofing projects. They are ideal for construction works. The sheets give clean lines, long-term durability, versatility and great visual aspect. They are non-corrosive and long-lasting. These are strong steel roofing sheets, perfect for residential and business purposes.

Key Features:

Lightweight and reliable roofing material.
Non-corrosive, rugged & clean.
Available in several colors.
Useful in housing and industrial complexes.
Technical Specification:

Thickness

0.35 - 0.60 mm

Aluminium Zinc Coating

AZ-70 / AZ 150

Colour Coating

RMP / SMP / PVDF

Top Coat Thickness

18-20 micron

Bottom Coat Thickness

5-7 micron epoxy primer service coat

Yield Strength

345 - 550 Mps

Cover width

1070 mm

Effective width

1000 mm

Guard Filrn

25 micron (Optional)




Thickness

0.20 - 0.80 mm

Aluminium Zinc Coating

Zn -120 GSM / AZ -70

Colour Coating

RMP

Top Coat Thickness

18-20 micron

Bottom Coat Thickness

5-7 micron epoxy primer service coat

Yield Strength

240 – 345 mpa

Cover width :

780 - 1110 mm